In this week's equipment spotlight we are showcasing our Z-Lift Conveyors.
Pictured is our Z-Lift Conveyor with an optional product hopper for bulk loading.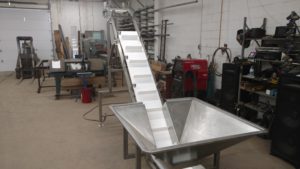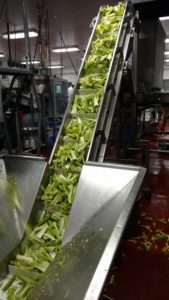 Sometimes when you are working in a smaller than ideal space, you need to be able to change your product elevation drastically in a short amount of space. In situations like this you need a Z-Lift conveyor. Depending on the belt that is used, you can travel up to a 90° angle. With the ability to have a small footprint, and to transport your product at a wide range of angles, the Z-Lift conveyor is an ideal solution to many different production problems. With the addition of a product hopper, you are not only able to use the Z-Lift Conveyor in downstream applications, but also when you need to load/move product in bulk in your production line. All equipment here at HSM is custom designed to your specific needs, with a wash down design.
For more information, on the Z-Lift Conveyor, and the Bin Dumper attachment, please visit our Equipment page at https://hi-standardmachine.com/equipment/bin-dumper-conveyor/ or give us a call at (937) 539-3519