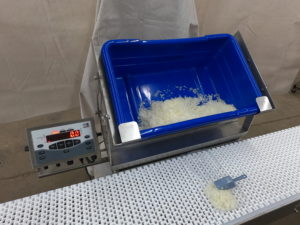 The Portion Master LS 1 is an inline Negative Weighing portion control scale that is designed to give you more control over your portioning, yield and eliminate your need for check weighing down the line. The Portion Master also has the capability to collect the data of every scoop taken out of the tub and keep track if those scoops are within the acceptable range that you set. All data points collected by the Portion Master LS 1 are able to be tracked and save for efficiency reports.
Each ingredient tote is on a customized holder with an integrated scale. The scale operates on a "Take Away" principle. In other words, the scale displays the weight that is removed from the bulk container instead of weighing what is left in the tub. The scale has indicator lights that read UNDER – ACCEPT- OVER. The operator just has to look for the green light (ACCEPT) to know they have the correct portion. The scale also has an automatic TARE function that resets the scale for the next cycle.
The Portion Master LS 1 is a must have for your production lines if you are in the Grab and Go industry! If you are interested in the Portion Master LS 1, or you would like more information about it, please contact HSM at (937) 539-3519 or send us a Direct Message and we will get back with you!