Here at HSM we specialize in custom built equipment for food processing. Over the years we have developed many different types of product placement equipment to fit your specific needs. All of our equipment is designed to be washed down, direct contact with food, erosion resistant and efficient. All dimensions on all of our equipment are customizable, including speed of placement, and in line position.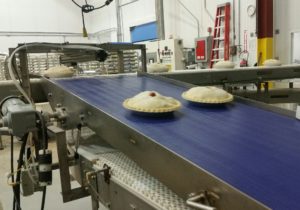 Some highlighted pieces of custom equipment are the Pie Line Diverter* which was designed to divert finished pies from one line onto a 90° adjacent line, allowing for product delivery to multiple locations from one production line. The Shuttle Conveyor* was designed to take product and realign it by quickly cycling back and dropping the product onto another conveyor running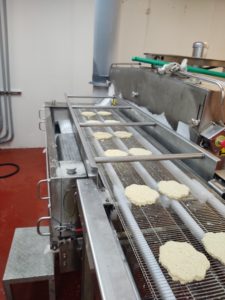 in a 90° angle opposite of the shuttle conveyor. The Metal Detector/Inline Reject system was designed to detect any amount of metal in the product and then reject that specific product by shuttling back quickly to drop the contaminated product, and then shuttle forward to continue production. The Gated Conveyor* was designed to divert product in bulk from the main line, either onto another line, or into tanks. The gates are pneumatically operated, and can either let product pass, or be opened to redirect the product.
All of our Product Displacement equipment here at HSM is designed to have a smooth, and quick transfer, retain all product integrity, and never have any line congestion. All HSM equipment is engineered and built in house to the customers exact specifications, to fit your special and unique needs. For any questions you may have, please contact us at (937) 539-3519, email us at aclack@hi-standardmachine.com.
*Pictured